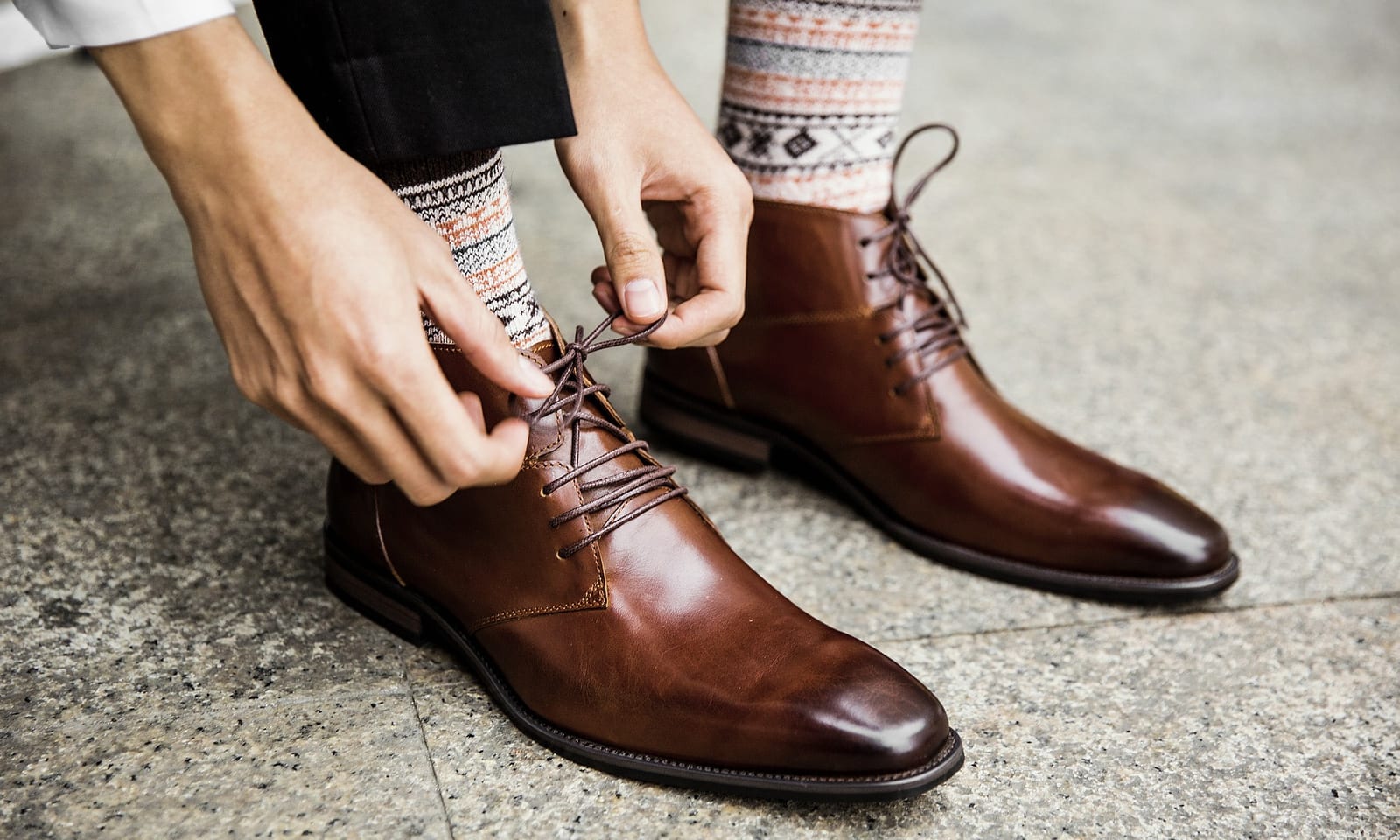 Knowing how to tie dress shoes should seem simple, but that is hardly the case. Not only is the lacing method often quite specific, but dress shoes have a certain style that you will want to maintain while wearing them. If you want to know who to tie dress shoes properly, here is a short guide for people who are just starting out with their dress shoe options.
The Wrong Ways
Knowing how to tie dress shoes properly involves tying them correctly in a classic style, not in the popular styles that work with other footwear.
Most men do not realize how much this matters. Correctly tying your laces is more than enough to salvage most footwear, but leaving your shoelaces loose or tying them badly makes the footwear stick out much more, and not in a good way. With popular men's shoe brands, this can even seem like you do not know how to tie laces.
Bunny Ears/Bow
When learning how to tie dress shoes, the bunny ears method is a common mistake. This involves creating the first knot, next making two loops, crossing the loops, then pushing one lace under the others. This makes a loose knot that will eventually open up, meaning that it is the wrong way to keep your dress shoes tight.
The Dress Shoe Granny Knot
The Granny Knot is the most common way to lace-up dress shoes and is fairly simple to do.
Pull the right lace across the shoe and over the left, then fold it under and pull it tight until you are left with good length. Next, create a loop on the right side and wrap the other lace around it, moving away from you. When you pull it through the gap, you will have a crooked laced knot, which is not really desirable.
The Right Ways
When you are researching how to tie dress shoes, there is always a 'right way' that results in you tying them correctly. The wrong methods can ruin the style you are going for when wearing a pair of stylish shoes.
Straight lacing is the key way to tie your shoes correctly and is generally the right way to approach the problem.
Step 1:
Place both ends of the lace into the bottom eyelets of your shoe, giving you a horizontal line above the leather.
Step 2:
Next, keep the lace taut and even with the same length on both sides (for shoes with uneven eyelets, you may need to make one side longer, but not by much).
Step 3:
Take one of the laces and insert it into the second eyelet above it, then the second eyelet on the other side, making another line.
Step 4:
Next, take the lacing from the other side of the shoe and push it up into the third eyelet above it, then the third eyelet on the opposite part of the shoe, making a third bar.
Step 5:
Keep this pattern going: lacing upwards, along, and then repeating again with the other lace. You want to make an alternating bar on each "level" for even shoes, although uneven shoes may need a diagonal cross to make sure that the lacing is done correctly.
Once this is done, your shoelaces are basically prepared to be tied up in a traditional loop style. Unlike the wrong kind of loop system, this leaves you without any crookedness in the shoelace loop, meaning that the laces stay straight and will not loosen during the day.
Why Does it Matter How You Tie Your Shoes?
Lacing up shoes is not just a little bit of the process. Not only can lacing a shoe up the wrong way cause your tying attempts to fall apart, but a good pair of shoes needs a proper knot and laces to look good. The more stylish and attractive your shoes are, the more obvious it becomes when your shoelaces (and the method used to tie them) are even a little bit wrong.
Most men's dress shoes are designed to be more formal rather than comfortable. However, they can actually be quite comfortable as long as you lace them up properly. Tying them poorly results in the shoelaces coming open at the wrong times, and this can end up making the shoe rub against your feet.
The point of tying laces on a shoe like this is not just to hold your shoe onto your feet but to make it clear that you wear them with some dignity. Footwear with style needs to be worn with style, and while a basic criss-cross between eyelets might be enough to stay functional, it can look bad when it comes to style and finesse.
How Can I Learn?
First, try to handle your shoelace yourself. If you struggle with tying up your shoelace from the left, do the opposite and start from the right. Keep trying until you either get it right or realize that it is not working.
One of the easiest ways for men to learn more men's lacing techniques is through a video tutorial. These video tutorials might also come with blog posts that explain these men's lace techniques, and you can often find a video explaining how to handle the laces in specific types of footwear. If one video does not help, skip to the next.
If you still do not get it once a video ends, then look for the posts floating around the internet about how to handle men's laces. A video can be good, but if you prefer reading to video assistance, then a decent post can help a lot. They might even explain how to adapt a left-handed method for right-handed lacing or how to start from the top instead of the bottom when using some techniques.
Whatever you do, remember that there will be a right way to lace any shoe. If you need a video to help you, that is not a bad thing, but you should at least make sure that you practice along with the video and really get an understanding of the technique being used. Do it wrong, and even if it looks correct, your laces could suddenly loosen themselves at the exact wrong moment.
Sources:
https://www.gentlemansgazette.com/lace-oxfords-dress-shoes/
https://www.realmenrealstyle.com/tie-dress-shoes-correctly-vdo/